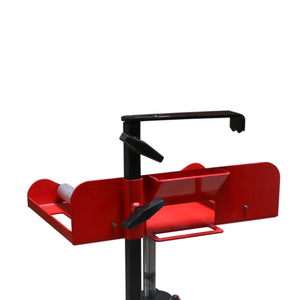 Forged from a passion for efficiency and guided by insight and experience, the Patented Lift With TRAC Tire Rotation Assistance Tire Cradle is engineered to make tire rotations and service repairs easier and safer for professionals. The cradle attaches directly via the adapter post or simply bolt it to your floor jack for effortless tire rotations.
Details:
• Heavy-duty welded steel construction offers lifetime durability
• Convenient lug nut holder for easy access and increased efficiency
• Tire cradle component attaches directly to your floor jack 
Lifetime Warranty:
The TRAC | Tire Rotation Assistance Cart is built to last. If any of our carts fail for any reason, we will replace it.